Swansea Women's Aid Updates – June 2022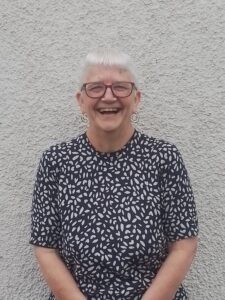 Congratulations to Lynne Sanders, our Chief Executive, who has been honoured with an MBE for services to Victims of Domestic Abuse in Swansea.
24 years after starting as a volunteer for Swansea Women's Aid, Lynne became our Chief Executive. Over the past 12 years, under Lynne's management and guidance, the organisation has seen vast growth, both in size and expertise, providing a range of specialist accommodation, community and outreach services across Swansea for women and children experiencing Violence Against Women, Domestic Abuse and Sexual Violence (VAWDASV).
Her passion to ensure women and children are heard, believed, empowered, valued and safe has no limit. She works tirelessly, challenging practice when necessary and working closely with a range of agencies, statutory and voluntary, to promote  women and children's voices and ensure that service design, delivery and development considers their needs, removes any barriers to access and focuses on how best to support them in a strengths based, needs led, trauma informed way.
Lastly, Lynne is the epitome of the organisation's Vision, Mission and Values, leading by example and is regarded with the utmost respect by all of her team at Swansea Women's Aid.
Lynne Sanders, CEO of Swansea Women's Aid commented:
"I am honoured to have worked with amazing women and children over the years who despite the abuse they have experienced have survived and changed their lives for the better, be that in a small or major way. Their strength and courage drives me on to ensure we do the very best we can to enable them to live free from abuse. The MBE, whilst awarded to me, also belongs to our wonderful team of trustees, staff and volunteers who, over the years, have shown true dedication and commitment and without whom, I would be lost. Well done to us all!"
---
On International Women's Day, we are delighted to announce that we have been re-accredited with the Welsh Women's Aid National Quality Service Standards Quality Mark. This is wonderful news, demonstrating the quality of the specialist services we deliver and recognising the work of our dedicated, committed team who relentlessly support the families in touch with us to cope with and recover from their experiences of abuse.
The National Quality Service Standards form a set of accredited criteria through whic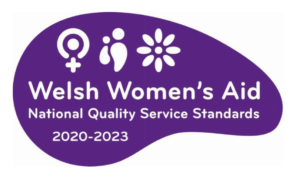 h dedicated specialist services addressing domestic abuse can evidence their quality, embodying the principles of participation, transparent governance, gender-responsive, strength-based, needs-led, and trauma-informed service delivery.
It is particularly a cause for celebration given all the changes we have had to make to service delivery in the last 2 years, changing from largely face-to-face delivery to telephone and virtual support too.
they set out the standard of service provision necessary to enable survivors of domestic abuse to cope with and recover from their experiences of abuse.
---
Covid- 19 and our Services –
Swansea Women's Aid are a Covid Safe organisation. We continue to follow Government guidelines at our premises in order to protect our service users, staff and volunteers and to help keep Covid-19 infection rates low in Swansea.  For this reason, we are currently unable to offer Drop In sessions at our central office.
However, we remain available to help you. Our support workers continue to offer support virtually and over the phone. Of course this may not be appropriate for some, and we are able to offer a number of pre-planned face to face appointment to those who need it or may be in crisis and/or in an emergency situation. Please discuss your individual need with the support worker over the telephone, we will do our best to address your immediate needs.
Please remember, if you are a woman in need of help, we are available 24/7 on 01792 688683.
Everyone has the right to Live Fear Free.
For more information or any questions related to Corona Virus Covid-19 please refer to the Government website below.