Swansea Women's Aid Face Covering Guidance Update 14/09/2020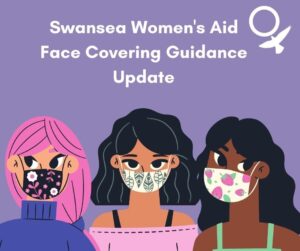 As of today (14/09/2020) The Welsh Government have announced that face masks are compulsory in public indoor spaces in Wales. This means that face masks now must be worn in Swansea Women's office by staff, women and children over the age of 11 attending appointments. Due to this, we ask and encourage women to wear face coverings where possible to protect themselves and others from the spread of COVID-19.
We understand that for some survivors of domestic abuse wearing a face mask can be stressful and upsetting due to past experiences. We also understand that this means some women are unable to wear masks for long periods of times or not at all. Women unable to wear masks due to their past experiences are regarded by the Welsh Government to have "a reasonable excuse."  Whilst we encourage the use of face coverings, for those who can, we want to make it clear that there is no stigma or shame towards women who are unable to wear a mask.
When you enter your appointment your support worker will be wearing masks. Please let them know if you are exempt from wearing a face covering. For further guidance please see The Welsh government guidelines
Also see attached guidance on how to correctly wear a face coverings and guidance on how to make your ownthree layer face mask.