Swansea Women's Aid Awarded Cymorth Cymru's Supporting Survivors Award
We are delighted to announce that Swansea Women's Aid has been awarded The Supporting Survivors Award at Cymorth Cymru's The Promoting Independence Awards .The Promoting Independence Awards celebrate the work done by people in the housing and support sector in Wales, showing the best examples of how organisations support people to improve wellbeing. The awards promote excellent and progressive work.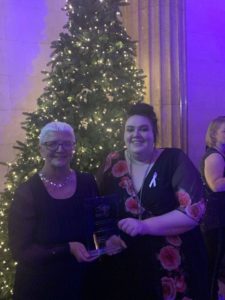 The Supporting Survivors Award was awarded to Swansea Women's Aid in recognition of the gender-responsive and intersectional equality approach that is taken by Swansea Women's Aid. The award also takes into account the preventative work that Swansea Women's Aid does to promote women's and girls' equality.
The award was presented at an award ceremony in Cardiff Bay's Portland House. The cermony well attended by people from the housing and support sector and was a fantastic opportunity to celebrate amongst our peers and learn about the fantastic work being taken place by agencies across Wales.
As a team, we are thrilled to have won this award, especially as we faced a high quality of competition from the other amazing services that were shortlisted as finalists. It is fantastic to see the brilliant work that our team does daily be recognised amongst our peers.