Swansea Women's Aid's CEO Lynne Sanders' dedication to charity work recognised at The Queen's Garden Party
We are delighted to announce that Swansea Women's Aid's CEO Lynne Sanders was invited to and attended The Queen's Buckingham Palace Garden Party on May 21st, 2019.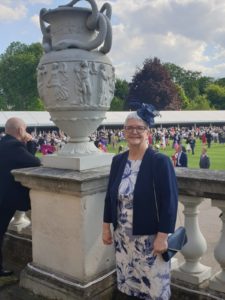 Lynne, who has been a vital part of Swansea Women's Aid for thirty-three years, was invited to the party in recognition of the dedication and commitment she has shown to charity work and the hours of time she has given over three decades to work towards a safer Swansea for women and children.
Lynne said "I was delighted to have been invited to the garden party and see it as a recognition not just of my efforts, but of the SWA team as a whole over the years. We all work tirelessly to support the women and children in touch with us."
The event was attended by several members of the Royal Family, included Her Majesty the Queen, and 8000 people who were being recognised for their positive impact on their communities.
Lynne said "I thoroughly enjoyed myself. Who could fault a beautiful sunny day in the grounds of Buckingham Palace, mixing with royalty, having afternoon tea and celebrating with the other guests!"
All the staff at Swansea Women's Aid are  happy to see that Lynne's hard work is being recognised and would like to offer their congratulations to Lynne on this auspicious occasion. As the CEO, Lynne works tirelessly to support the women and children of Swansea and recognition of her efforts is greatly deserved. Well done Lynne!