Swansea Women's Aid Updates – March 2022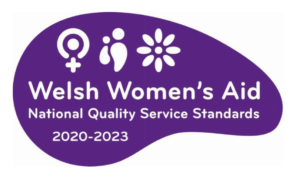 On International Women's Day, we are delighted to announce that we have been re-accredited with the Welsh Women's Aid National Quality Service Standards Quality Mark. This is wonderful news, demonstrating the quality of the specialist services we deliver and recognising the work of our dedicated, committed team who relentlessly support the families in touch with us to cope with and recover from their experiences of abuse.
The National Quality Service Standards form a set of accredited criteria through which dedicated specialist services addressing domestic abuse can evidence their quality, embodying the principles of participation, transparent governance, gender-responsive, strength-based, needs-led, and trauma-informed service delivery.
It is particularly a cause for celebration given all the changes we have had to make to service delivery in the last 2 years, changing from largely face-to-face delivery to telephone and virtual support too.
they set out the standard of service provision necessary to enable survivors of domestic abuse to cope with and recover from their experiences of abuse.
Covid- 19 and our Services –
Swansea Women's Aid are a Covid Safe organisation. We continue to follow Government guidelines at our premises in order to protect our service users, staff and volunteers and to help keep Covid-19 infection rates low in Swansea.  For this reason, we are currently unable to offer Drop In sessions at our central office.
However, we remain available to help you. Our support workers continue to offer support virtually and over the phone. Of course this may not be appropriate for some, and we are able to offer a number of pre-planned face to face appointment to those who need it or may be in crisis and/or in an emergency situation. Please discuss your individual need with the support worker over the telephone, we will do our best to address your immediate needs.
Please remember, if you are a woman in need of help, we are available 24/7 on 01792 688683.
Everyone has the right to Live Fear Free.
For more information or any questions related to Corona Virus Covid-19 please refer to the Government website below.